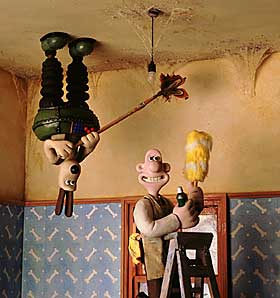 Wise One came into my room a few minutes ago wearing gigantic grin and oversized snow pants over his legs with the bib rolled over his belly button. Folks, it's June and 90 degrees outside here in TN. "Mom, what do I look like?" he inquired.
Inside my brain I thought, " A Goober" but managed to keep the comment to myself.
"Are you supposed to be a character?" I smiled a bit disingenuously.
"Yep. Guess who I am." He proceeded to stiffen his arms and legs and walk about my room like Frankenstein. He added"Zurrp, Zurrp" to each step for sound effects while pushing invisible buttons on his tummy.
I nodded and answered in my very best British accent, "Must be the wrong trousers, buddy."
"YES! You're a good guesser, mom."